About our company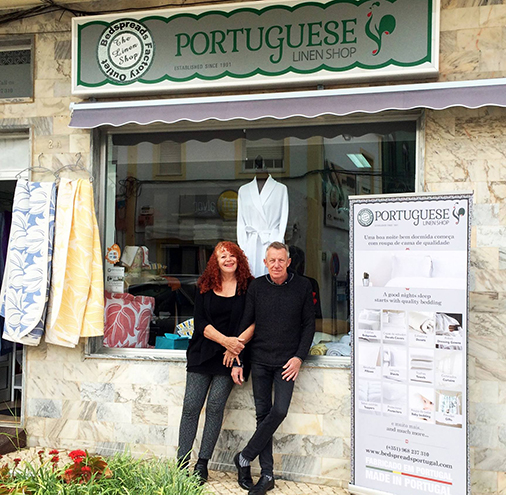 A History of Bedspreads Factory Outlet
We are a specialist shop in a "niche" market, begun in 1991 on discovery of a gap in the market for high quality cotton products, that were available abroad in better quality linen shops but not here in the country of origin. Initially working on the local "gypsy" markets selling only bedspreads, we developed a core of repeat clients, established a reputation of selling only the best, and learnt from the bottom up exactly what people were looking for.
1997 saw the birth of Factory Outlet Bedspreads in Alvor (a picturesque fishing village close to Portimão in the Algarve); establishment of the shop in an ex-restaurant in a side street close to the municipal market, the simple way of life in this fishing village exemplified everything we felt about life in Portugal.

This shop has since closed as a new outlet was established in Lagoa on the EN125. As time has gone by we have heavily invested in stock, still only buying from the best Portuguese manufacturers, our extensive stock ranges now includes: sheets fitted and flat in Portuguese German, Dutch and UK sizes, cotton sheets, blankets, duvets, pillows, duvet covers, towels, valances, curtains,bathmats, cushion covers,protectors, tea-towels, placemats, etc, to name but a few products, not forgetting our trademark bedspreads.

January 2017 has seen a new lease of life for Bedspreads Factory Outlet: The Portuguese Linen Shop with a new location in Alvor. Business was established in 1991, for many years the shop was established in Alvor and closed down in 2011 after building was converted into a house now after many clients requesting it... we have returned to Alvor near Portimao (a former sleepy fishing Village now turned into an  International Holiday destination) the location is perfect on the main road up from the taxis next to Perinis Pastelaria Café.


The move was prompted by the fantastic location , and the amazing opportunity to work close from home, this move combined with new e -commerce website, bodes well for 2017.
Come to Alvor visit the friendly Village, shop at the eclectic mix of shops, walk along the amazing beach and Boardwalk, you can even go for lunch at any of the wonderful cafes and restaurants , buy the best bedding here at the shop, don't worry if you cannot fit it in your case we can post it! We and Alvor await your visit.
We now sell everything anybody could need if setting up home/investing in a rental unit/refurbishing or kitting out a holiday home. We constantly re-stock and add new designs year after year, always the best quality, with the emphasis on the customers needs.

Our trademark bedspreads have built our reputation; woven from 400 grms / sq.metre Egyptian matelasse cotton, created into; bedspreads, valances, curtains, cushion covers, tablecloths, pillow shams, place mats, hard wearing, machine washable and colour fast.
Our product range has developed alongside demand, personalized customer care is of the highest priority to us, staffed and run by us linda and patrick hall, meaning that we can ensure that the individual apartment owner is treated with the same amount of time and care as large development clients / hotel groups buying for a luxury resort.
Special wholesale prices for larger buyers, contact us for details.